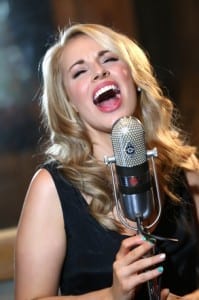 Texas native and soulful songstress Kasey Lansdale will give a special benefit performance on Friday, October 23rd in her hometown of Nacogdoches, Texas at the downtown Morning Glory Yoga Studio. The performance will benefit Morning Glory Yoga Studio owner Amy Sanford, who is soon returning to Mysore, India to study Ashtanga Yoga at the renowned Shri K Pattabhi Jois Ashtanga Yoga Institute. Admission is free but donations are welcome and encouraged.
Kasey Lansdale will kick off the show at 7 p.m. by performing songs from her album, "Restless," which was produced by the Grammy award-winner John Carter Cash, progeny of "The Man in Black," in the Cash Cabin studio. Her "Sorry Ain't Enough" music video was officially released on September 29 and gives viewers an exclusive look inside the historic studio. The "Sorry Ain't Enough" single debuted at #4 on MPE's Most Downloaded and Streamed Songs, only behind Lady Antebellum, Sheryl Crow, and Brantley Gilbert, and also landed at #14 on the Hot Disc UK International Chart.
Lansdale's songs "Back of my Smile" and "Foolin Around" were featured in the June 2014 film "Cold in July," an adaptation of her father's book, which starred the award-winning actor Michael C. Hall ("Dexter"). She recently wrapped up her second successful "Restless Roadtrip" Radio Tour with stops for live interviews and performances across the country.
Who: Kasey Lansdale
What: Benefit Concert for Amy Sanford
When: Friday, October 23, 2015
Where: Morning Glory Yoga Studio in Nacogdoches, TX
Tickets: Tickets are free — bring a cash donation or checks made out to Morning Glory Yoga Studio.
ABOUT KASEY LANSDALE:
Produced by Grammy award-winner John Carter Cash, Kasey Lansdale is a Country Blues artist from small-town Nacogdoches, Texas. Already an accomplished songwriter and author, her music is featured in the new films, "Cold in July," starring award-winning actor, Michael C. Hall of Showtimes' hit series "Dexter"; and in "Christmas with the Dead," where she made her first big screen debut portraying Ella, the protagonist's wife.  Lansdale was nominated for the Best New Female Artist at the 2015 Texas Regional Radio Music Awards. For the most up-to-date news and tour dates, please visit:www.kaseylansdale.com.
AND as if the above isn't impressive enough, Kasey is also a yoga instructor and Morning Glory Yoga's newest teachers!  Come meet our newest teacher!
ABOUT AMY SANFORD:
Amy has been teaching yoga in East Texas for the last ten years, both at Stephen F. Austin State University and at Morning Glory Yoga Studio, which she owns and operates. Her classes are designed to meet the needs of each individual, from beginner to advanced, with an emphasis on proper alignment and breathing. Amy believes that yoga is practiced both on and off the mat, and she encourages her students to explore and deepen their personal practice, then apply lessons learned to moments in their every day lives. She is certified to teach yoga through the Living Yoga Program in Austin Texas.
Amy's continued studies and personal practice have taken her to Mysore, India to study Ashtanga Yoga at Shri K Pattabhi Jois Ashtanga Yoga Institute with her teacher Sharath Jois.  She returns for a second year to deepen her personal practice and understanding of yoga and anticipates teaching Ashtanga in Nacogdoches in 2016.