Sunday Nov.17, 2013 • 2:00 pm – 4:30 pm
Studio Members $20  •  Non-members  $30
call (936) 715-9909 or Email to register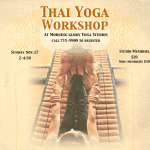 Join us for a fun and informative workshop that will enhance your yoga practice and make you feel wonderful!
Based on the principles of yoga, Ayurvedic medicine and Buddhism, this ancient form of massage utilizes acupressure, gentle stretching and twisting as well as energy work. Participants will work with partners and be safely guided through a basic Thai massage routine in both supine and prone positions. We will also learn the history, philosophy, health benefits and contraindications of this fascinating modality. Thai yoga is practiced fully clothed and without the use of oils or massage creams.
Everyone is welcome; no massage experience is required.
Morning Glory yoga instructor and licensed massage therapist Kimberly Kennamer will lead this unique workshop. Kimberly first experienced Thai yoga massage as a student at the Boulder College of Massage Therapy. It was love at first stretch and so she traveled to northern Thailand where she became certified to practice this modality at the prestigious Thai Massage School of Chiang Mai.