Hello All!
Do you know that Arrie has a brother? Well, he does!  Trey Tucker is an accomplished Certified Personal Trainer in Austin and he's visiting Nacogdoches on October 15th. While in town, he wants to offer a workshop on foam rolling and it just so happens we have brand new foam rollers.  It's perfect, really. Well, it will be once we have you (or the first 15 students) make a reservation to attend!
Trey Tucker will offer a donation-based one hour workshop to teach techniques and discuss benefits of self-myofascial release or "foam rolling." 
The basics of how to roll all the major muscle groups will be taught as well as the the benefits and contraindications. The class will consist of basic anatomy identification for better understanding and plenty of time to roll and feel the effects of self-myofascial release first hand. Q&A to follow.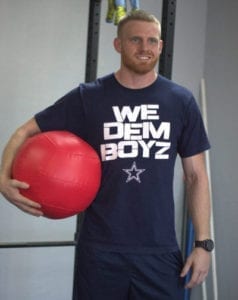 Trey Tucker is owner and trainer at PowerHouseATX, a gym in Austin, Texas.  Trey grew up playing competitive sports, from t-ball to semi-pro football, and has a passion for improving performance, health, and wellness. To this end he has obtained numerous certifications and has clocked hundreds of hours working in corrective exercise, sports performance, and weight loss. Trey believes that the only way to achieve a healthy lifestyle is to make fitness enjoyable. Trey's goal is to help others become stronger, leaner, faster, and a healthier version of themselves.
So, come meet Arrie's brother (yay!) and learn proper form and creative and effective techniques from a certified trainer to foam roll your way into greater well-being.
---
Place:  MGY2, 409 East Main St
Day: October 15, 2016
Time: 5:30 – 6:30pm
Cost: Donation (suggested $10)
This donation class is limited to 15 students only.  
Participants must be able to stand up from and get down on the floor with relative ease.  
Please email [email protected] to reserve your place. In the subject line please include [First and Last Name] and [Foam Rolling 101]. You will receive a confirmation email of your reservation.