Introduction of Tai Chi and basic overview of basic Tai Chi concepts.
Students will gain knowledge, practice, and resources to begin a daily Tai Chi exercise routine.
---
October 7th 10am–12:00 pm
Tai Chi Basics/ Tai Chi Walking
Introduce 108 Yang-Style Long Form
History of Tai Chi
Benefits
Warm-Ups
Introduce Qi Gong/ Building the Ball
Tai Chi Walking/Shifting
Wuji
Benefits of practice
Introduce Long Form/ Begin practice
Video support at home
October 7th 2–4:00pm
Breath Work
Intention/Focus
Diaphragmatic
Breathing benefits
Warm Up
Building the Ball QG
Practice Long Form,
First Section 70% Rule
How does intention influence your Tai Chi?
Sensory focus exercises
Practice Long Form, First Section
October 8th 1–3pm
Self Massage
Concentration and Meditation
Tai Chi for Health
Warm Up
Building the Ball QG
Self Massage
Practice Long Form, First Section
How can Tai Chi help me meditate?
Preparation work for meditation
Long Form as a meditative practice
---
Workshop Series Duration: 2 Days

Classes: Saturday (2) and Sunday; three classes total

Hours: 2 Hours per Class

Location: MGY2, 409 East Main St

Investment: One Class: $60; Two: $105; Three: $145
---
---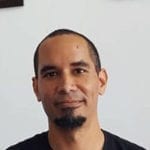 Kai Lewis is an instructor of Tai Chi, Qi Gong, Meditation and several South East Asian styles of martial arts. He has also completed his 200 yoga teacher hours and continues his studies in anatomy, massage, reflexology and sports science medicine. His interests lie in the practical methods of martial arts, healing, meditation, and yoga and applying these arts and their applications in a modern context. He currently teaches several public classes and is part of the MD Anderson Integrative Medicine Center team, sharing the health benefits of Tai Chi and Qi Gong with the hospital's cancer patients, caregivers, and staff.
---