Walking is a natural process that often gets overlooked and disregarded. Morning Glory Yoga invites you downtown to explore the many benefits of stepping out. Enjoy a deeper look at the basic anatomy and mechanics of walking, as well as techniques for mental health applications of walking.
You can expect some lecture but a more practical experience will be emphasized. Self myofascial release techniques along with postural stretching will be used to explore the anatomy and mechanics of walking. Mindfulness, the practice of attending to the present moment, and The Way of Council, the practice of deep listening and sharing, will be used as tools to more deeply understand the mental and emotional effects of walking as meditation.
In addition, we welcome you to begin your day with our 9am All Level Hatha yoga class, complimentary with the registration of the the Walking Meditation.
Downtown Nacogdoches is a thriving and charming area with several options for places to stay, eateries, and shopping. Make a weekend of it! Upon registration, we'll provide options for downtown destinations.
Registration Details:
Location: MGY2, 409 East Main Street
Date: Saturday, 01.18.2020
Time: 10:30am – 12:00pm ~Lunch break~ 1:30 – 3:00pm
Investment: $45
CLICK HERE TO REGISTER
---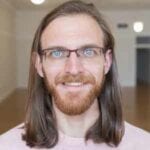 It's a tall order to describe Arrie. It wouldn't be a stretch to call him knowledgeable about contemplative practices.
Arrie is a kind and knowledgeable teacher who is quick to offer his perspective without denying anyone else's. He is fascinated by the human body and how it functions, injuries and aliments are a favorite topic of conversation. His training in transpersonal ecopsychology from Naropa University has taught him how to place individual experiences in larger contexts, thus allowing for deep compassionate engagement.
He teaches yoga at at Morning Glory Yoga Studio in Nacogdoches and has for nearly a decade. Arrie is a certified yoga teacher through The Living Yoga Program in Austin, Texas and is currently furthering his studies in yoga therapy.
---